Tourism and Translations in Turin
Cultural and tourist services
Translations online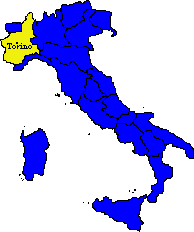 A professional tour guide is the best help to discover the unknown beauty of Turin and Piedmont.
Capital of the Duchy of Savoy since 1563 and first capital of Italy in 1861, Turin is one of the most beautiful baroque towns in Europe and the recent industrialization hasn't changed the atmosphere of the historical centre, where you can find the traces of an interesting past, since the Roman foundation in the Ist century BC.
The modern travel industry hasn't discovered our region yet and you still have the possibility to visit palaces, churches and museums without having to cope with the problems of mass tourism.
Why don't you try to find out what kind of nice surprises are to be found in our town? You also have the possibility to see a copy of the Holy Shroud (the original one is kept in Turin since 1578). Visiting our churches, you can better understand the close relationship between religious feelings and artistic development of the town.
And what about the luxurious Royal Residences, the celebrated Egyptian Museum, FIAT and the Automobile Museum, the Cinema Museum and the new Museum of Oriental Art....
Discover Turin and its surroundings with an experienced tour guide.
You also have the possibility to choose among a variety of thematic tours, such as:

The Roman city
The medieval period
The baroque era
Magics in Turin
The churches and the religious tradition (the Holy Shroud, the "social saints" of Turin)
Historical cafés, food and wine culture, chocolate and aperitive ...
Excursions in the region and specific tours can be arranged on request.
A tour in the wine region with a qualified tour guide can be particularly interesting and stimulating and gives you the occasion to taste the best local wines

Click here to see the prices of the guided tours
---
Do you need an Italian translation?
You can order it online by clicking on the book:



Technical or scientific translations
Sworn translations





---
---
| | | |
| --- | --- | --- |
| | Are you looking for a book about Turin or Piedmont? | |